GOING BEYOND THE KNOWN LIMITS
The Challenge
The challenge we've set for ourselves at Zenatek is to provide owners and shippers of valuable merchandise with an advanced, reliable and cost-effective solution for safe, controlled shipments, worldwide, with the latest technology and the best possible support network.

The Solution
In response to this critical challenge, we've created the Zenatek Tracking system (ZTS). This system affords our clients a new level of performance and reliability in tracking, monitoring and reporting on transported goods. It provides clients with real-time information on the condition and location of all shipments, and allows them to rest secure in the knowledge that their shipments will be delivered safely and securely, when and as promised, to any part of the world.
The Zenatek Tracking System
The Zenatek Tracking System is a highly reliable and innovative technology-based service we offer our clients. It makes use of a self-powered, energy-efficient device, easily installed and configured for any shipment. The device allows users to track position and temperature, and also detects unattended intrusions or incorrect handling. In its latest iteration, it can also alert users to undesirable levels of luminance or humidity, or abrupt decelerations in transport.

End users can access the location of their cargo within a few meters, using the ZTS web-platform and are alerted via e-mail or SMS of any above alarm events, over user-configured thresholds.
With its SATIS(f)ACTION project, Zenatek studies how to increase overall food supply chain safety and trasparency by implementing next generation Remote Container Monitoring services thanks to European Space Agency most advanced satellite technologies (SatNav, SatCom, SatEO), data intelligence (Edge AI) and advanced certification technologies (DLT). The project is made with the support of Knowhedge, IIA and GE.
Industry Applications
- Transportation & Distribution
- Assets & Heavy Equipment (agricultural, earth moving equipment, etc.)
- Oil & Gas equipment
- Government & Defence equipment
- Pharmaceuticals
- Perishables and temperature controlled food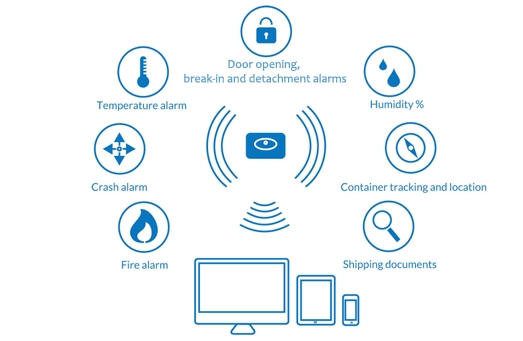 Distributors & Agents
Zenatek professionals are at your disposal to deal with your specific logistic and tracking requirements.

If your area is not covered or you're interested in becoming a Zenatek agent or distributor, please contact us.
Back to Top
Please enter the verification code shown in the image.